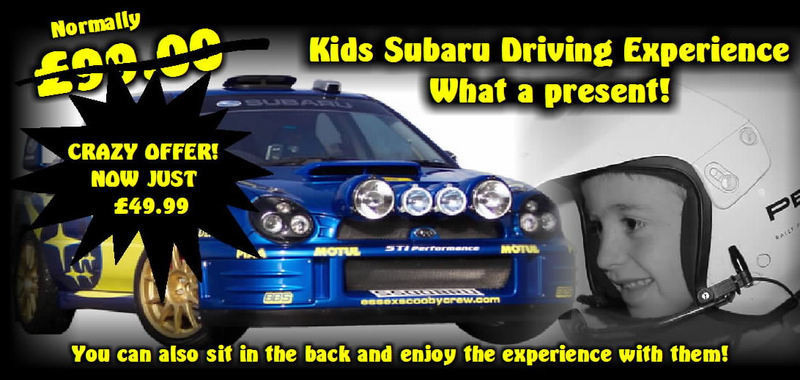 Q: So at 8 yrs old how are they going to reach the pedals?
A: We have a full set of pedals located in the passenger side footwell for our professional instructor to operate the movement of the car, the steering however will be in the capable hands of your little up and coming rally driver!
Q: Will my little soldier / princess be in a safe and controled environment?
A: This really is a safe and unique experience allowing the smaller children to simply steer the car around our circuit at safe speeds controlled by our professional instructors descretion, speed will also be determined on the childs steering capabilities. The movement of the car is under the instructors control at all times.
Q: My child is tall enough to reach the pedals, will they be allowed to take complete control?
A: ABSOLUTELY ! and be assured that you can feel completely relaxed as our instructors pedals overide the drivers pedals so 100% safety guaranteed. (Car also fitted with an engine stop button)
Q: Can myself or my husband sit in the car as a passenger?
A: Yes one or both parents are welcome as an adult passenger is required, We welcome Mum, Dad , Nan or Grandad to come along for the ride (Let the kids drive you for a change)
Q: How long will they drive for?
A: We suggest that you allow 1.5 hours at the venue which will include a short safety briefing and change over times, they will drive for a total of 5 laps of our mile long circuit, quite tiring for a new rally star but thats not it! To finish off their amazing experience as a grand finale they will also have a ride in the DOUGHNUT ARENA !
Q: What on earth is the DOUGHNUT ARENA!
A: Kid's just love the DOUGHNUT ARENA ! They will be in the passenger seat this time as the instructor spins the car around & around & around & around in the arena , it's great fun and see them beaming as the get out ! (If your still unsure, Youtube Ken Block Doughnut !)
Q: Can i purchase an incar video of my childs experience?
A: Yes you can purchase a recording of the experience on S/D Card to take away with you, This can be arranged at signing on upon arrival.
Q: Is there anywhere we can get refreshments?
A: Yes we have our Rally Cafe onsite where food and drinks are available at very reasonable prices.
So having read the above we hope that you agree when we say that we have a unique & exciting experience to offer!