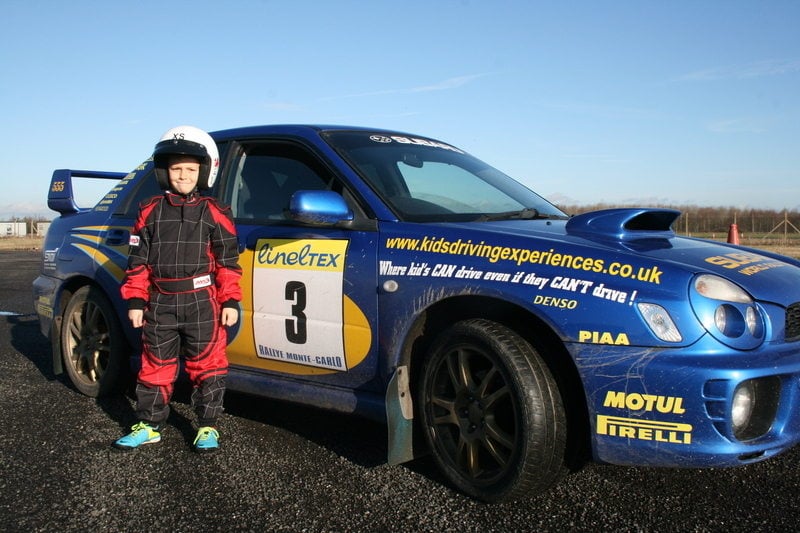 Why should adults have all the fun?
Suitable for boys or girls from 8 - 15yrs even if they can't drive!
This experience is possibly the most unique and safest driving experience for kids in the uk, our professionalism and experience allow us to offer smaller children an amazing opportunity in a safe and totally controlled environment!
"Kid's CAN drive here even if they CAN'T, We are a unique experience due to our full dual control pedals which include an accelerator, this means that if your child can't reach or operate the pedals our professional instructor will control the movement of the car leaving the child to simply steer"
The experience consists of:
* 6 Laps Driving this awesome Subaru Impreza Rally Car around our rally stage with a professional rally driver teaching you top techniques as used by top rally drivers.
* You'll also take away a certificate to prove to your friends that you have driven a Rally Car!
Allow 1hr at the venue
Priced at just £129.00 this experience offers fantastic value for such an exciting gift idea for any child !
PLEASE NOTE: This is an enjoyable yet simple experience allowing kid's the opportunity to drive a Subaru Rally Car in a safe and controlled environment at a speed comfortable to both them & our professional instructor, enjoyable for both boys & girls !
Takes place at our Worcestershire venue.
GIFT VOUCHERS ARE AVAILABLE
FOR MORE DETAILS TEL: 07875213756
Kids Driving Experiences, Kid's Driving Experience, Kids Driving Experience West Midlands, Kids Driving, , Driving Experience, Kids Driving Experiences West Midlands